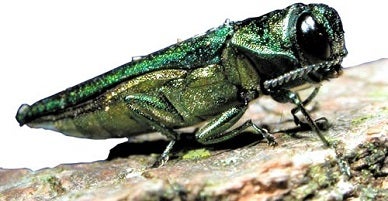 What is the Emerald Ash Borer?
The Emerald Ash Borer (EAB) is a non-native invasive beetle. It is native to Asia and thought to have arrived in the United States in solid wood packing material from its native Asia. It was first detected in the Detroit, Michigan/Windsor, Ontario area in July 2002. EAB feeds on and kills native ash trees, and has killed millions of ash trees across the U.S. since its arrival in Michigan in 2002. EAB was found in Maryland in 2003, and has since spread across most of the state. It is expected to cause close to 100% mortality of native ash trees unless trees are chemically treated for protection.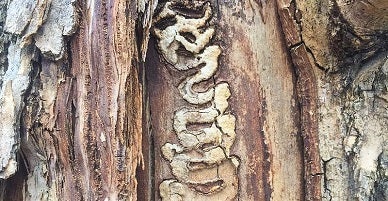 Significance for Our Members
Vegetation Management is one of the methods Choptank Electric uses to ensure that their electricity is safe, reliable, and affordable for its members. Maintaining our right-of-way for a safe and reliable electrical system is a top priority and the Emerald Ash Borer is an immediate threat to our electrical system. Once an Emerald Ash has killed an ash tree, it becomes structurally unsound. This increased the likelihood that the ash tree could uproot, break off and/or shed large branches.  This could seriously damage our distribution system and result in loss of power to members.  
For more information on the Emerald Ash Borer, you can visit these sources: 
U.S. Department of Agriculture, U.S. Forest Services
Maryland Department of Agriculture
What Can Our Members Do?
Treat your trees with insecticides that can prevent EAB infestation Avoid planting invasive ornamental plants on your property. 
Learn how to control invasive plants around your property and what tools to use to properly remove them.
 Report invasive plant infestations to your local land management agency.
Do not dump aquariums or house plants in the wild or in water, such as lakes, streams, rivers, or ponds. 
Make sure to clean your clothes, boat, animals, and gear off after recreating to prevent the spread of invasive species to other areas.
Do not collect invasive plants, their seeds, or reproductive bodies. Do not carry firewood long distances. Burn it where you buy it! 
Contact Maryland Department of Natural Resources to learn about this invasive species.  
What is Choptank Electric Doing?
Choptank Electric is currently surveying its right-of-ways and electric equipment as part of its routine vegetation management program.
During this process, Choptank Electric will identify and mitigate the impacts of infected Ash trees to our overhead electric facilities.
Infected Ash trees located up to 40 feet away from Choptank Electric's electric equipment that feed residential areas, or that are adjacent to other Choptank Electric facilities such as substations and high voltage transmission lines, and will pose a threat to reliability during the four year vegetation management cycle, will be prioritized and targeted for removal. 
If trees are located on private property, property owners will be contacted and asked to cooperate in this effort in order to maintain safe operating conditions and lessen the potential for increased electric service interruptions.